Land and People Acknowledgement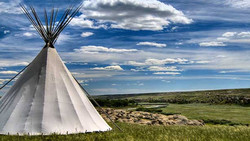 We acknowledge with respect the history and culture of the peoples with whom Treaty 6 was signed and the land upon which Elk Island Public Schools reside. We also acknowledge the traditional homeland of the Métis Nation.
We recognize our responsibility as Treaty members and honor the heritage and gifts of the First Peoples.
We commit to moving forward in partnership with Indigenous communities in a spirit of collaboration and reconciliation. Click here to learn more.
Character Education and the Seven Teachings at Mills Haven
This year our school will be focusing on Character Education through an Indigenous lens. Our students will be using the Seven Teachings to practice important traits such as Respect, Courage, Wisdom, Humility, Honesty, Love and Truth. These teachings are of great importance and are taught in many different Indigenous cultures, and we can find ways to practice these traits in all aspects of our lives.
December and January Character Trait: Humility
Think of others before yourself. Humble yourself and be thankful for what you have.
In the Seven Teachings, we can learn about Humility from the Wolf.
Why the Wolf?
The wolf lives within a pack of other wolves.  The pack operates as a team. Each animal has a role within the pack to play, and each animal is important for the survival and betterment of the pack.  
No animal within the pack is better than another.
This month we organized a community food drive! Students in Mills Haven decorated, organized and delivered 250 bags to our neighbors asking them to fill them up for the Strathcona County Food Bank. We are looking forward to seeing how much food our community donated!
How can you practice Humility at home, school, and in your community? Look for ways and report back to your teacher so we can continue to make Mills Haven A Great Place to Be!
*Thank you to Mrs. Richard at Westboro school for her help with this project.